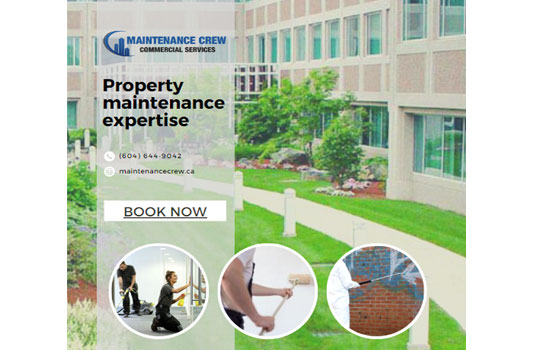 Your investment can gain significantly from a capable property manager. The last thing you want to worry about is mending the damaged sign out front or the split asphalt at the back of the parking lot when you have to take care of your tenants' requirements and monitor the operations of your facility. An expert property maintenance company in North Vancouver, can be quite helpful in this situation.
Property maintenance services can help extend the life of your property and lower the cost of future renovations in addition to improving the aesthetics of your area.
You'll spend less time worrying about the state of your property when you have a team of experts on your side and more time managing your business.
One of the main benefits of hiring a supplier of property maintenance services in North Vancouver is that you won't have to worry about little things like replacing garbage cans or giving a building's exterior a new coat of paint. You also don't need to be concerned about graffiti. Graffiti can permanently harm your property in addition to being unpleasant. This is why it's critical to employ a team of property maintenance specialists North Vancouver who are qualified to solve the issue.
A team of qualified of property care specialists works to keep your property tidy, useful, and visually pleasing at all times.
Call Maintenance Crew to schedule a consultation if you need assistance with the maintenance and care of your property or to find out more about our full range of property maintenance services.
Grounds Maintenance - Up to 7 Day Litter Cleanup - Lawn & Garden Maintenance - Janitorial Services - Graffiti Removal - Handyman Services
Our services include litter patrol, full gardening services, pressure washing, graffiti removal and handyman services. We currently render commercial & industrial maintenance services to properties throughout the lower mainland.
For More Details Call Nelson @ (604) 644-9042